Gas Heating Options That Will Improve Your Décor
If you are looking for a new – or first – gas heater for your home, you may be wondering what size to buy? Are there heating options that can make my room look good? There are a few decisions you need to make before narrowing down your choice –
Do I want a portable (unflued) gas heater or a flued heater?
Do I want radiant or convective heat?
What size of heater do I need for my space?
Do I want Natural gas or LPG?
All gas heaters sold in Australia are tested and labelled for their energy efficiency star ratings. The star rating is based on their net heater efficiency.
Flued indoor heaters offer a warm heat, the term *flued* means that the combustion gasses generated when the gas is burnt is directed outside your home by a fixed pipe/chimney through the wall or ceiling. Traditional draft flues go straight up through your roof. Powered flues offer more design options as the exhaust gas is fan forced vertically or horizontally depending on the model. Conventional gas heaters use air drawn from inside the room for combustion.
What size heater should I buy? If you buy a gas heater that is too small it won't be able to heat your room, one that is too large will simply be costing you money, and, oversizing your heater can be unsafe. You need to consider:
The climate of the area you live in
The volume of the area you want to heat
The physical features of your home, window coverings, floor coverings and if you have wall or roof insulation
Today we are spoilt for choice when it comes to gas heaters for your home. Gone are the days of ugly gas portable heaters. Gas heaters of today are sleek and stunning, and when not in use, blend in to your decor, when they are in use, they add elegance and class.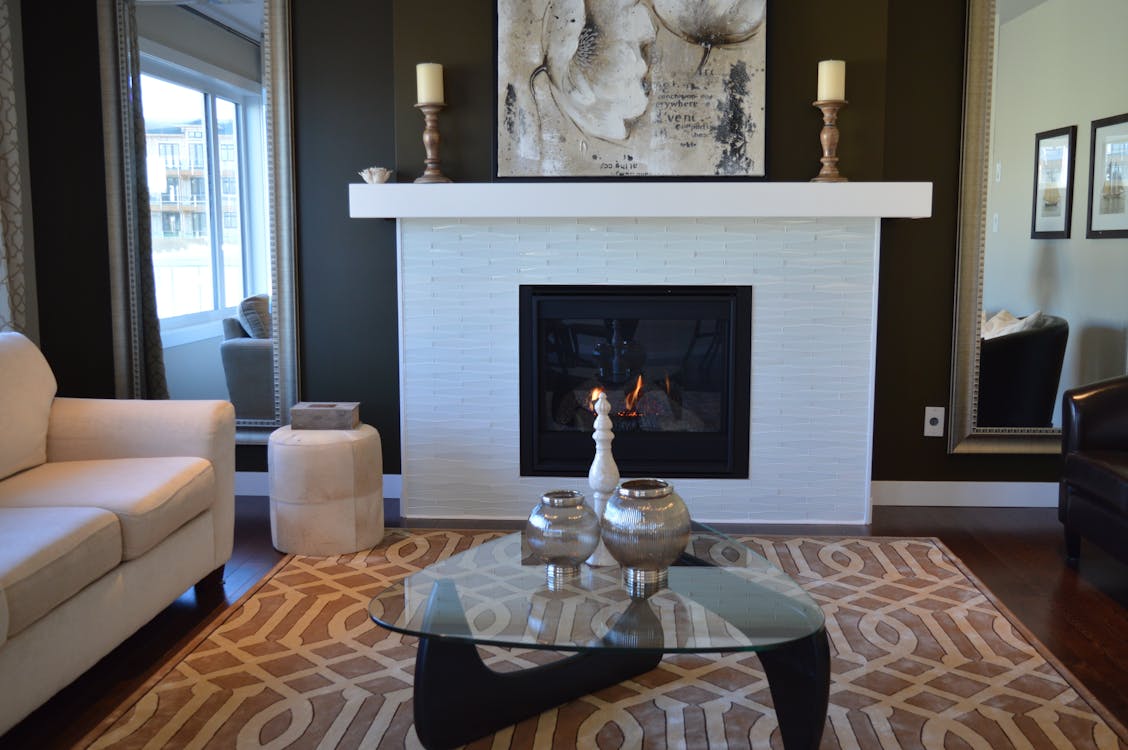 The Coonara Clearview double sided gas fireplace lets you heat two rooms with ease and with an extremely powerful heat output of up to 200sqm not only is this fireplace perfect for an open plan living area, it's also Australian made! Add elegance to your space with a zero-clearance firebox, remote control or upgrade to a Wi-Fi remote, with a black fascia, vertical or horizontal flue options this fireplace is available only in natural gas options.
If you are looking for a stunning fireplace the Escea DS1400 is perfect. With a 5-star efficiency rating and large glass viewing area you have a cross between great form and function. When on, this fireplace is just about the flame, and where the wall ends, your glass ends, there is no visible frame, it's like having a window in your wall. The great news is you can put this fireplace anywhere – up, down or sideways, with no walls required you don't have to compromise on your designs. Thanks to the Smart Heat app you can turn your fire on remotely – no more walking into a cold home. Available in single and double sided you can make an impact in one room – or two. With a full range of fuel beds, you can design the firebox exactly how you want it.
The Gazco Studio 2 Inbuilt gas fireplace is a very sophisticated glass front fire that comes in a wide range of frames and linings allowing you to design your gas heater around your existing décor. The Studio 2 gives you a quiet operation, high efficiency, different installation options and a balanced flue gas fire. Add to this realistic hand-painted logs and a glowing ember effect, a range of flueing options, your choice of frames, convective and radiant heat, simple drop-down door for easy access, programmable thermostatic remote control and external battery holders making battery changes simple.
The Studio 2 has a balanced flue which means you do not need a chimney, with the unit completely sealed from the room into which it's installed there are no draughts that can increase heating efficiency and a twin-wall pipe that vents directly outside through a nearby wall, or the roof. When it comes to combustion, air is drawn in through the outer pipe while the inner pipe removes the combustion gases, and, depending on the fireplace you have chosen the twin-walled pipe exits either horizontally through an external wall or, vertically through the roof.
Read More
Tagged:
Gas Heaters